Acquiring Independent Retailers
Another blog post from the old website and brand - I think it shows the startup process quite beautifully.  Enjoy!  
As a startup beverage brand, resources are minuscule.  Any productivity that happens is due to interpersonal relationships with independent retailing leads.  In this blog post I'll take you through the steps I go through to acquire independent retailers.
Full disclosure: Té Amo is currently only in 13 locations, so my knowledge on this matter is not extensive.  However, as to document the Té Amo journey for you, the audience, as thoroughly as possible, I'll spill what I know and do (so far).
Since the most effective relationship to get Té Amo's name out there is a retail partnership, I am spending 1-2 full days a week "pounding pavement".  What is pounding pavement, you may ask?  Well, it's going door to door - building to building with the end goal of a distribution sale.  It's a challenge, but it can be fun and very rewarding.
SO this is what I do, step by step:
   1. I walk into the store/restaurant with a big smile on my face and a bottle of sweet and unsweet Peruvian tea in each hand.  (I check if the shop has a refrigerator with drinks inside, if so then they are a good retailing candidate).
   2. I don't ask for the manager/owner immediately - instead I work with whomever I am immediately presented.
   3.  I say "Hey there, I'm Mark.  What's your name?", and chat with them about the fine establishment they are employed within.  It's at this point I am collecting information about the location to regurgitate into conversation with the owner/manager.
   4.  I get them to try the tea, tell them the story (my elevator pitch), and THEN I ask if I can speak to a manager/owner.  This way I already have someone "on my side" when it comes to "soliciting" my product.  It makes speaking to a manager/owner easier and more comfortable.
   5. I do the same thing with the manager/owner, if they are there.  If they are NOT there, I get BOTH their email and phone number and leave them bottles to try out.
   6. I email and call them the same day, and I don't stop following up until they say no or let me supply them with Té Amo.
It's that simple (although you may have to have the nerve/naivety for it)!  In fact, a couple of days ago, I went through this canvassing method in Lawrenceville, a hip area of Pittsburgh.  I entered about 20 locations, abut 15 of them were good fits for the product, and of those I was able to speak to 8 managers/owners.
Everyone liked my grandmother's Peruvian tea recipe but only 1 ordered same day.  3 more are serious about getting the product within shops and are checking with other administrators, and the others are undecided.
This demographic loved the fact that a consumer purchase could equal one tree planted in a third world country - exactly what I was going for.
The task of cold-walking into unknown businesses may seem daunting to some, but I love the process.  In fact this is how I feel after leaving an interested shop: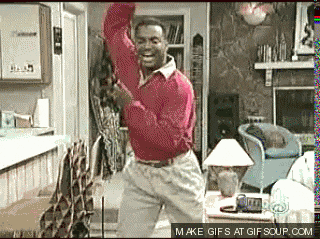 Next week I'm hitting East Liberty.  Does anyone have any more suggestions on Té Amo's attainment of retailing clients?
Thanks for reading.
Cheers,
Mark